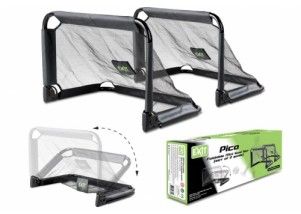 PICO Goals ** Sold Out - New Delivery February 2023 Pre Order Available
€120.00

This brilliant product is slightly smaller than the Bazooka Goal and metal in Frame. It is the ideal product for Academy Players but solid in frame and foldable means they are safe and secure. This set of goals would be our most popular goal sold to clubs, academies and senior players, being metal they will take a considerable beating over the seasons. The Pico goal is superb for all ages and as metal takes alot from senior players.

A Fun way to end any training session is through Scoring Goals.

These Goals are Priced as a Pair so represent excellent value for money but prices exclude Delivery Charge!

For Club Orders they can come assembled by our team at an additional cost, and safety checked for your convenience!

For a Bulk Order for your Club please email goals@eisports.ie



Preorder Today!